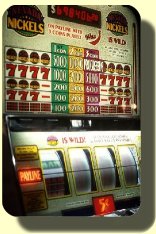 Slot machines are the most popular of all casino games, and the simplest to play. Slots are a familiar game to almost every person that has ever walked through a physical realworld casino.

To play, just put your money in the machine and either pull the handle with the mouse, or press the Spin button.

You can also press the Bet Max button to automatically wager three coins, or whatever the maximum number or coins are, and spin the reels. Remember, to get the maximum payout, wager the maximum number of allowed coins, in most cases this would be 3 coins.

DISCLAIMER
Please be advised that:
• These rules for the game as stated above are believed to be an accurate representation of the game.
• They may or may not contain errors and/or omissions.
• You are still advised to check the casino rules and game rules and ensure you understand them thoroughly prior to playing.